Recently we made a few minor changes to a "thank you" page which resulted in more than a 5X improvement in sales.
You can do this too!
Let me give you a little background.  This client, College Success Formula, gets their traffic by promoting educational webinars to parents of high school students.  They sell access to their membership site where parents can learn all the ins-and-outs of preparing, applying for, and getting into the best-fit colleges and graduating debt free.  They provide a great service for families with high school aged kids.
Their membership site is available at $37/month or $370/year.  You can also sign up for a 30-day trial for $1.  That 30-day trial automatically rolls into the $37/month plan if the member doesn't cancel (they are notified multiple times).
They get a lot of traffic to the school webinar registration page, and a lot of registrants.  A couple of months ago they decided to attempt to get registrants to sign up for the $1 trial immediately after registering for the webinar, on the thank you page.  Here's what the "thank you" page looked like:
BEFORE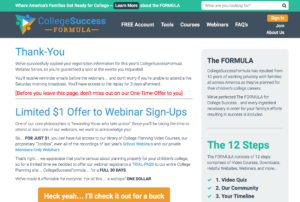 (click the image to expand)
The Problem
As you can see in the screenshot above, the first "message" to the registrant is "Thank you".  Essentially, "thank you" is the nice way of saying "go away & check your email for the info you requested".
Internet users (all of us) are now conditioned to fill out forms and then immediately go check their email. That pattern has been developed.  We need to BREAK that pattern in order to get attention.
In this case, the offer for the $1 trial is a good offer, but everyone ignores it or doesn't even see it because they assume they're done.
The Psychology
In order to see major improvements in $1 trial signups, we need to use a "pattern interrupt" tactic to get attention.
Instead of telling them "thank you" and letting them assume the process of registering is complete, we need to stop them, make them realize the process is NOT complete, and force them to read and make a decision in order to complete their registration.
So, the new headline needs to be "Your Webinar Registration is Just About Complete…" or "Your Webinar Registration is ALMOST Complete…".  That immediately forces the visitor to read more to find out what they need to do to complete their registration.  The Law Of Consistency says that in order to stay consistent with their initial decision to register, they will continue the process until it's complete.
Then, we insert some urgency by including a countdown timer.  In this case, it starts with 7 minutes on the clock.  And we let the user know that in the next 7 minutes they can get a 30-day trial for only $1.
Lastly, we force the visitor to make a decision.  The button says "Complete My Registration and Grab Me a $1 Pass".  This helps them realize that this is one path to completing their registration.  The other path is only available in a less obvious text link below the last button that says: "No thanks.  Please complete my registration and forfeit my $1 pass."  They must click one of those options to complete their registration.
After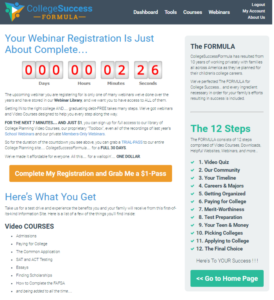 (click the image to expand)
Results
As you can see in the graph below, the results began to skyrocket during the first and second week of August, right after we made this simple change. Read below for your prescription for thank you page success.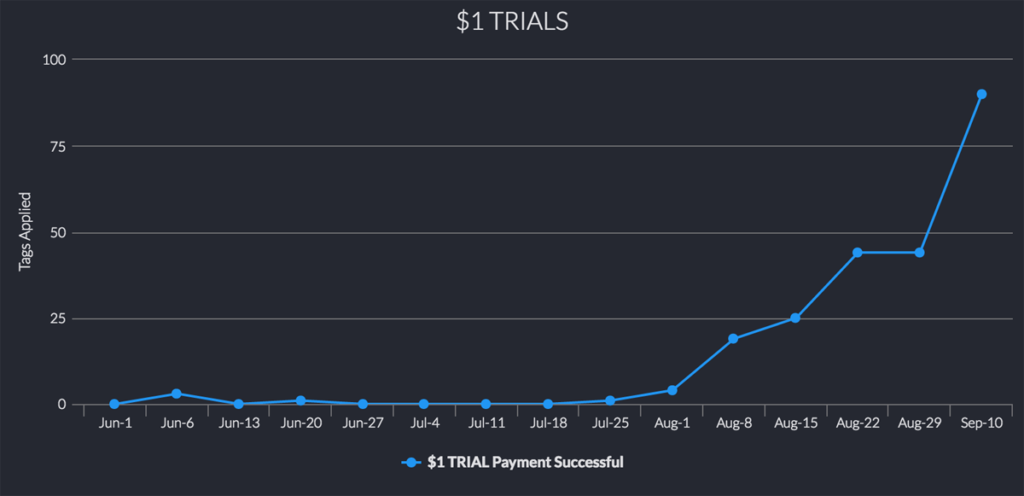 Your Prescription
If you want to see these kinds of results on your thank you pages, here's what you need to do:
Stop the user
Let them know they're NOT done, there's more to do
Force them to make a decision
Use a countdown timer (like these offered by Deadline Funnel) to increase urgency
Make it easy for them to buy
As you can see, the steps are very simple.  And it doesn't take much time to implement.  So, go do it, and them come back and comment below to share your experiences with improving results on thank you pages!