Which Infusionsoft Campaigns Are You Missing? 
Don't let your customers fall through the cracks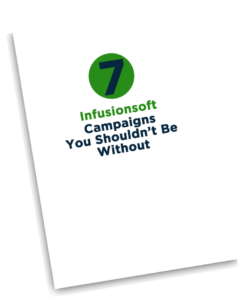 What does our FREE Guide Reveal?
We've put together the most comprehensive guide detailing the 7 campaigns every small business should have if you use Infusionsoft/Keap. Whether it's lead capture, conversion and sales,  or nurture/indoctrination campaigns, your business should have them all. Which campaigns are you missing?
We've developed an easy-to-digest list of proven Infusionsoft campaigns that you could use to check your business against.

Discover how to cycle your contacts through an automated experience that increases your bottom line, and gives your customer a full and valuable experience.

Download this guide, and start to automate each part of your business today.
Enter your name and email below to access the 7 Campaigns Report now: