18 Keys To Getting Results with Infusionsoft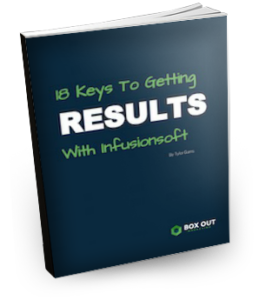 Enter your name and email address below and get instant access to this checklist.
IT'S NOT WHAT YOU THINK….
…it has NOTHING to do with AUTOMATION.
It has NOTHING to do with fancy CAMPAIGNS.
It has NOTHING to do with SOFTWARE.
But it has EVERYTHING to do with what's missing in your marketing.
     In this special report we covered the 18 essential keys to making any marketing campaign successful.  Infusionsoft is a tool that can help your campaigns run more efficiently, but it can't make them better.
Read this report and discover: