It's no secret that Infusionsoft (the software) has been stalled for a while.
And, I'll even admit that last year I lost hope for a time.  I wondered if it was ever going to get better.
I love Infusionsoft.  I love the product.  I love the company.  I love the people.  I love what it all stands for.  But that love was feeling unreciprocated for too long.
But things have changed.
There've been some changes in leadership, but more than anything it seems there has been a change in mindset.
A good change.
It seems there is now really good focus on updating and improving the product.  Finally!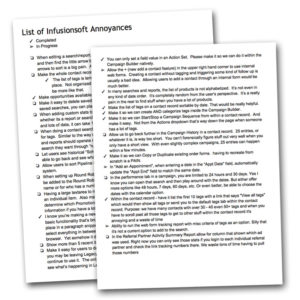 In early 2015 I had sent a "list of Infusionsoft annoyances" to the team at Infusionsoft.  This list was created (by me and members of my user group and Double Your Sales Club) in an attempt to find a handful of really minor interface changes that would reduce frustrations and "buy some goodwill".  Most of these things have been frustrations for many years.  The list was received with welcome arms.
But nothing happened.
And my hope waned.
But things were changing.
The first indication was at PartnerCon in November.  Terry Hicks, the new Chief Product Officer at Infusionsoft, blew us all away by having the team create some new features while we are all there for the conference.  They were small, but it showed us that they were serious about improving the product quickly.
Infusionsoft also moved to smaller, monthly releases.  During these releases we're seeing updates.  Things are improving.  Amongst a bunch of little things, we now have mobile responsive emails and mobile responsive landing pages.  We have open and click reporting in the Campaign Builder.  We can sort tags in the Contact Record.  Nothing revolutionary, but good progress.
Next, the product team reached out and asked for my list again.  I sent it and crossed my fingers.  But then I heard back, more than once.  And the list is getting checked off.  Click on the image of my list above and you'll see all the things that have been rolled out in just the last couple of months.  (FYI – I don't expect them to do everything on my list.  And I don't have any real inside track to push through changes & features.  But stuff is happening.  Infusionsoft is listening and responding.)
This progress gets me excited.
My love for the product is feeling reciprocated again, and I couldn't be happier.
I'm sure I will have my frustrations, just like I do with any product.  And, as a person who pushes Infusionsoft to the limits, I'm sure I'll still run into barriers I don't like.  But overall, I'm jazzed about what the future holds for this amazing software.
If you've felt like I did, have hope.
Good things are happening.