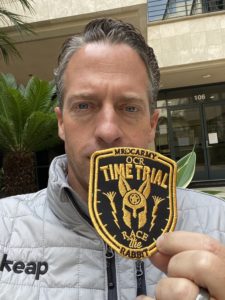 GOLD! 🏆
On Saturday I accomplished something I've been working towards for a while.  (It's fitness related, but it got me thinking about applications in some other areas of my life. Read on…)
I go to a gym (MROC: Obstacle Course Training Center) that helps people train for obstacle course races (think Spartan).
Each quarter they do "benchmark testing".  You complete various different workouts to measure your progress over time. Some of these workouts have Bronze, Silver, and Gold awards. 
Two quarters ago I missed Gold on the OCR Time Trial BY 1 SECOND!!!!!  Aaaaghhhhhh!!!!! 😡😡😡
I was so frustrated. One of the coaches had been running alongside me, encouraging me to speed up, but I just didn't feel I could push much harder.
Well, on Saturday, I finally got it.  Beat it by 44 seconds.  🎉🎉🎉
In my training I've been thinking a lot about pushing myself beyond my comfort zone, trying to go just a little bit faster and a little harder each time.  It paid off.
But, then come the harder questions…
How do you push yourself to be a better husband?
How do push yourself to be a better father?
How do you push yourself to be a better leader?
You can always run a bit harder, but how do you BE a bit better?
Some things in life are easily measured.  Others are very difficult to measure.
It seems many of the most important things in life are hard to measure.  So, if you can't measure it well, how do to improve?  How do you track progress?  How you do know if you're getting better?
That's what's on my mind this Monday.
Big question for you right now: How are you measuring your improvement as a Marketing Leader?
Your business needs better marketing.  You need more leads.  Are you as the business owner driving the necessary change?  Are you pushing the strategy forward?  Or are you hoping some consultant or agency will solve the problem?
Marketing Strategy School is open for enrollment for the next couple of weeks.  Check it out.  It will help you own your marketing results more than anything else!