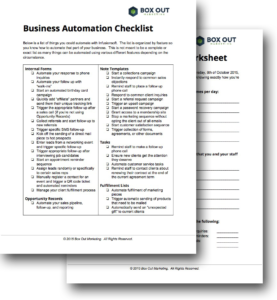 Today, while I'm sleeping, eating, working, taking my boys surfing, putting my little girl down to bed, eating dinner with my family, and even using the restroom, thousands of things will happen in my business.
Literally, thousands.
And not one of them will require my time or attention.
And my team won't be hindered by those things either.
That's because we've employed Infusionsoft to do those things for us.
Smart, savvy automation that doesn't take away the personal touch to doing business the right way.  But instead helps us do more in less time. Want the checklist that includes 33 ways you can automate your business? Fill out the form so we know where to send it:
With the download, you'll also get a webinar replay entitled "How To Clone Yourself With Infusionsoft (and save 2 hours per day)" which explains how to implement the strategies in the cheat sheet in more detail.
Remember, your business should serve your life, not the other way around.