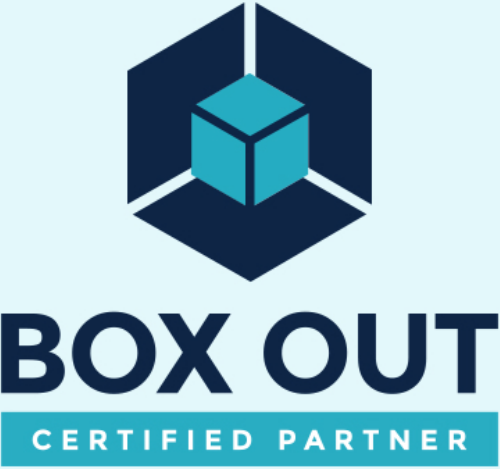 THE FACTORY PARTNER PROGRAM
Welcome to the Factory Program at Box Out Marketing. We have created an agency scaling tool that will help partners take their strategy and marketing skills to the masses.
In the spirit of working quickly and efficiently, we designed a portal for partners to make marketing automation build requests and our team works to complete them in your client's app behind the scenes. Whether you want to expand your services, win additional clients, sell more value, add offerings to current clients, or support them on a whole new level, you are in the right place.
We know that business growth isn't just about your business, it is about your client's growth and their customers experience. We have designed a training program to step into The Factory and get it working for you.We have built a training course to maximize the effectiveness of the service we deliver and streamline your time to implement. We have those who are experienced or new with the product. It is our goal to get you relevant training that will help you deliver for your clients quickly and effectively.
The Factory Partner Program allows you to partner with Box Out Marketing to utilize The Factory to learn the methodology, client management, and most importantly implementation (Infusionsoft, landing page development, and basic membership site development).
The core aspect of the Factory Partner Program is called "The Factory", which allows you to submit implementation requests to the Box Out Implementation team.
Implementation requests are organized by stage of the Customer Journey. In other words, the Box Out implementation team will build campaigns that will help your clients: capture leads, nurture and convert prospects, and automate sales processes, upsells, and review generation, and much more.
For example, let's say you have a client that has recently created a new lead magnet that they now want to offer on their website. As you know, this will require a handful of technical items to be configured: a landing page to offer the lead magnet, an Infusionsoft campaign with associated tagging, an email to deliver the lead magnet, and follow up. Through The Factory, you can submit a request to the implementation team to take care of all of these implementation items.
In addition, any task that you are able to clearly detail and define may also be submitted through The Factory. Certain actions in Infusionsoft can be cumbersome, labor-intensive, or repetitive -rather than spending hours of your valuable time, you can submit a request through The Factory for our team to take care of for you so you can focus on what's most important.
As a Factory Partner, you also receive access to core training that is designed to help you be
If any of the above resonates with you then you are in the right place!
Grow Your
Business

FASTER
with
The Factory
For unlimited automation, reporting, tags, etc. It is one flat rate. We currently operate on a monthly cadence that can be canceled at any time and will run until the end of the paid month. The partner pays for one app to be worked on per month and the partner can have as many apps as necessary to be worked on. There ae no refunds on client work that has started. In the event there is a month paid for that no submissions are made we do credit additional month, you should be engaged with your client and with our process.
To get started as a Factory Partner we do not have an annual fee. The price to start is$1,000 and that initial payment is the price of the first two months of your first client account…somewhat similar to a down payment. you may ask why we take this approach. We are committed to our
Complete onboarding education
($150 retake fee after second failed attempt)
Submit your first client's request
The Partner will interface directly with the Factory implementation team; the client will not have the ability to submit requests on their own behalf. When submitting requests, the Partner should have an understanding of how to accomplish each request, even though they are not implementing the request themselves. he Partner should provide as much detail as possible in each – the less detail provided, the longer the request will take.
After submitting the request, the Partner can submit additional requests in Queue (only once request will be worked on at a time, but you can submit as many requests as needed). The Partner can keep track of all requests from their Partner Portal dashboard.
Partner can charge whatever price for their services they would like with one requirement. The total monthly package of services partners provide has to be above the listed Factory price of $1,197 on the Box Out Marketing website. We encourage partners to wrap their strategy, consulting, and coaching packages along with the delivery of automation and reporting together and have the ability to charge much higher retainer fees.
How we operate at box out marketing
It is not our design, intention, or hope to move your clients over to our direct fulfillment

. Quite the opposite, it is our desire to build our partner network so that it serves hundreds if not thousands of our partner's customers. Your scale is our scale...let's create win win's together.
Many agencies deal with not being ready on a daily basis and sometimes for quite some time as they work with their customers in a one to one fashion. However, there is a potential to stunt clients' growth or your agency's growth if action is not taken. We have a scalable program for you and your clients. We only ask that you have two clients that need consistent automation to build out to start with and from there you can add as many as you'd like.
Some of the reasons we have heard why white labeling with us has worked is inconsistencies in work delivered by in house team members or they get involved with other projects that pull them in multiple directions. We have also heard frequently that this helps to lower costs, add additional projects, and freeing time up for those we work with. We have also understood from other partners that it can be tedious to do the work required and working with our team elevates the type of work they are performing. Our goal is to make sure there is consistent quality client work delivered in a timely fashion.
The answer is, possibly yes. You can most definitely send as many clients as you would like however there are some things that we do not do. For instance, custom membership site work or website theme updates, hosting management, tag cleanup work, or cleanup of a current messy campaign. In those last two instances, it is best to have us build a new campaign and we will build from there according to best practices in a new environment. This helps to have the corresponding tags necessary for an effective campaign. Additionally, we do not launch integrations where live leads are moving through them. Ask us if you have questions about these exclusions, we're happy to clarify.