Most of what you do in marketing and in business doesn't do you much good unless you can get reports on whether or not its working.
Infusionsoft is amazing because it stores all the data you need.  But it can be frustrating because the reporting capabilities are weak.
But one redeeming factor of Infusionsoft is the Dashboard.  When you know how to use the dashboard correctly, you can get a LOT of the data you need, right there on your dashboard.
Not only does the dashboard give you the data you need, but it can also be the place you go to keep track of tasks and actionable items.
First:
The first step is to determine what should be on your dashboard.  I recommend organizing your dashboard by function and then have the required data/action items in each function category.  Like this:
Second:
Once you've determined what you need on your dashboard, you need to set you your saved searches and report.
Searches can be done on records (Contact, Companies, Opportunities, Orders, Subscriptions, Referral Partners, and Visitors).
Reports can be run and saved on any of the standard reports under CRM -> Reports, Marketing -> Reports, E-Commerce ->Reports, or Admin -> Reports.
The process is the same for both.  It's just important to know that there is a difference.
Here is the process:
Third:
Once you have your saved searches and reports set up, you need to add them to your dashboard.
Some should be added directly to the dashboard as their own widget.  For example, I like to add the Monthly Payments report (sorted with the most recent month on top and showing about 6 months) to my dashboard like this: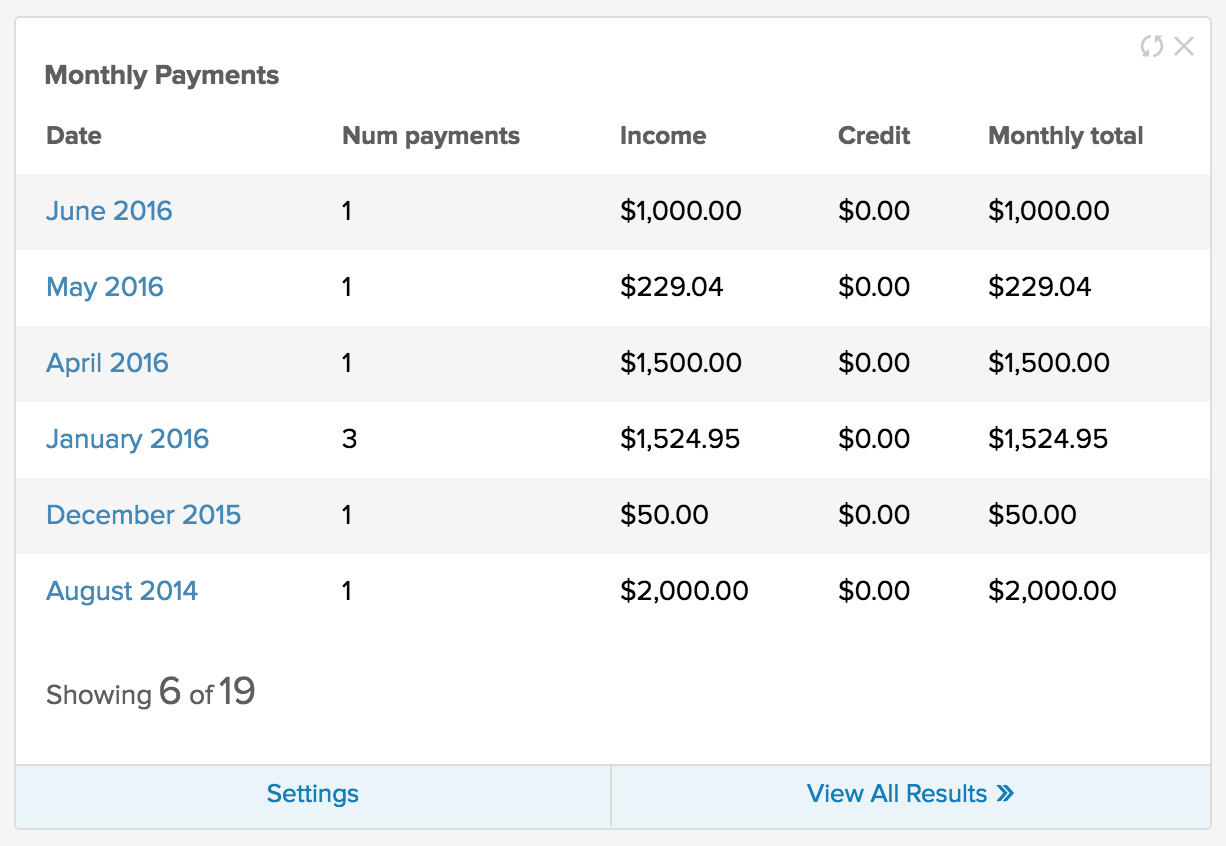 You can do this by adding the Saved Search or Saved Report widget to your dashboard, or just check the box when you're saving the report: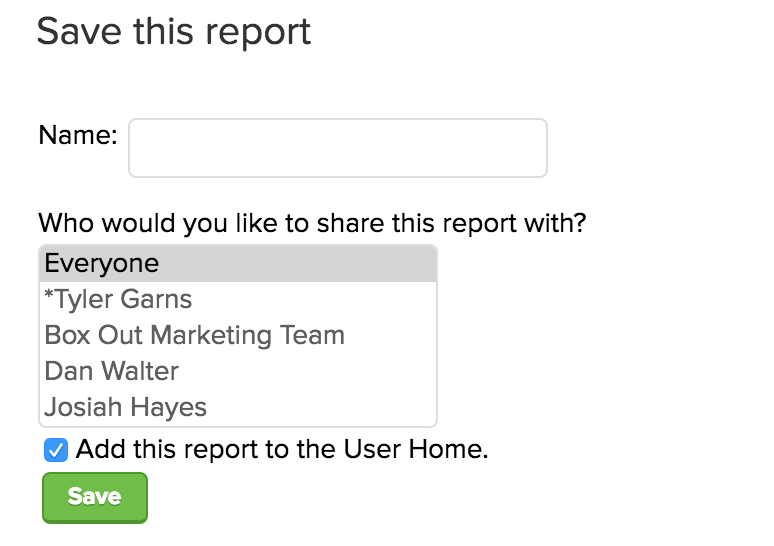 But for many searches and reports, you'll want to set up your own dashboard widgets with custom reports.   Here are the steps.
Click each point on the timeline to see the step details:
Click the "Add Widget" button in the upper right hand corner of your dashboard: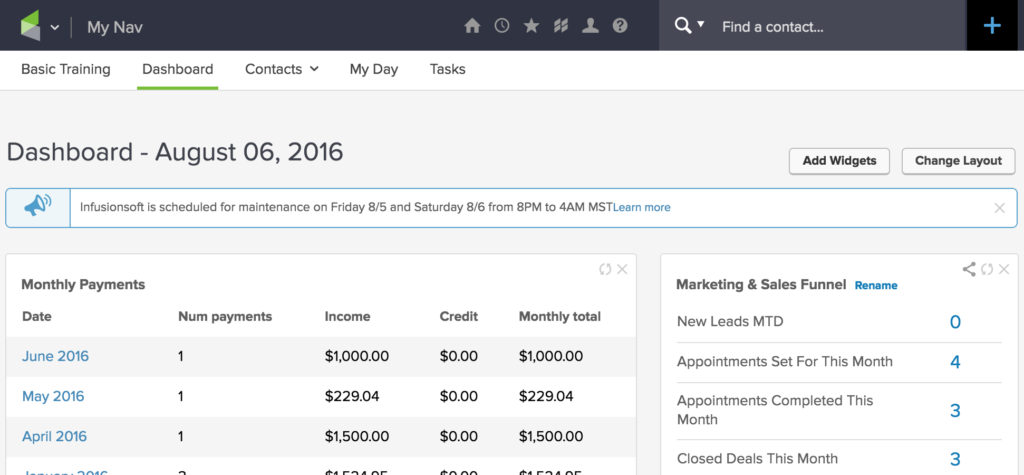 Find "Custom Statistics" and then click "Add To Dashboard".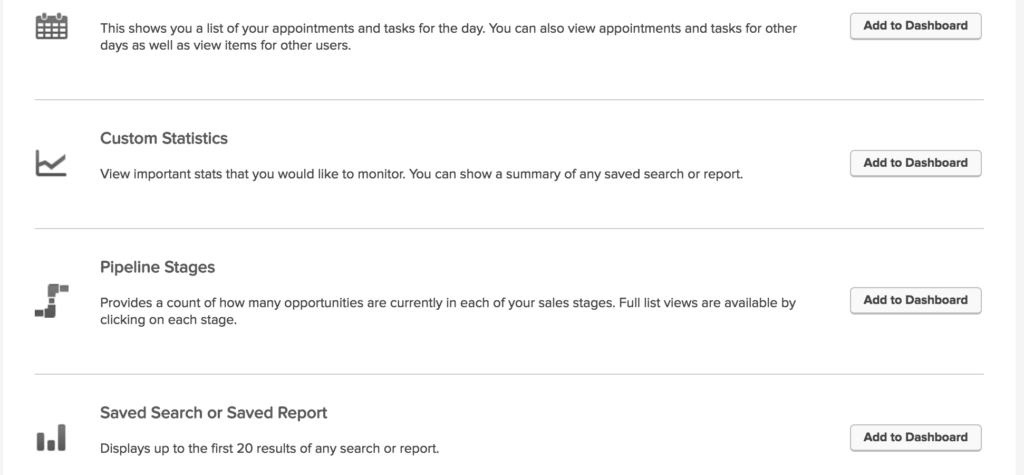 Select whether you are wanting a Saved Search or a Saved Report.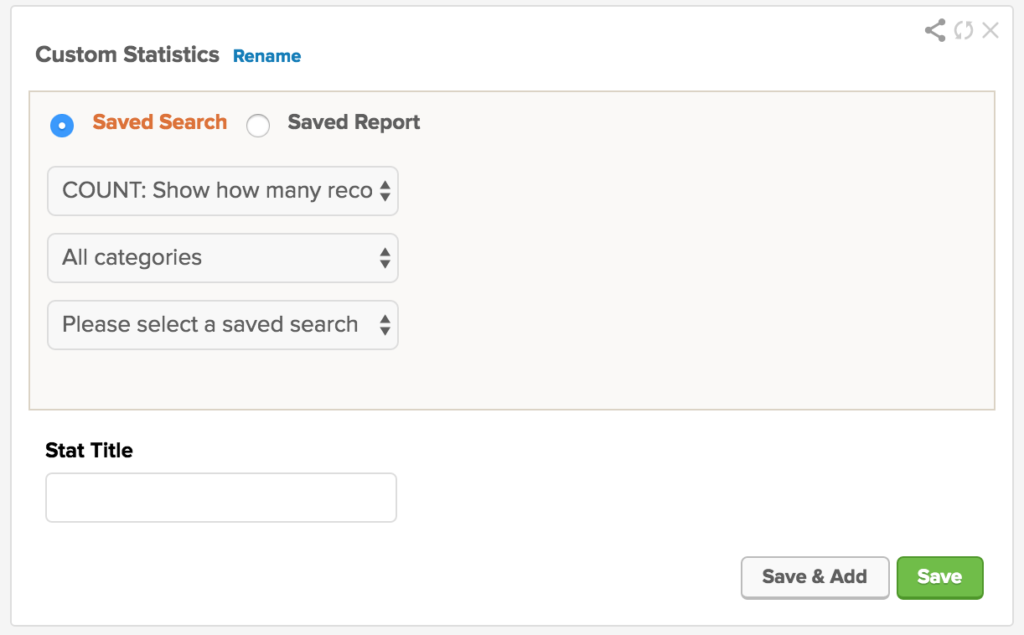 Select whether you want to show a count (number of records in the search), sum, average, maximum or minimum. When selecting a sum, average, maximum, or minimum, you'll be prompted to choose which column to use.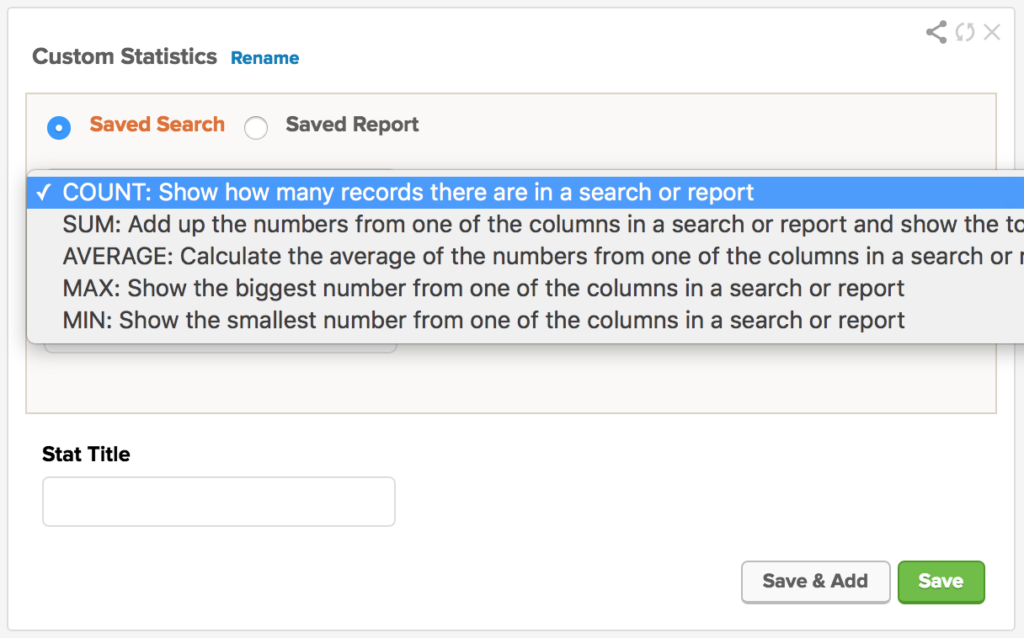 Select which type of record your saved search or saved report is in.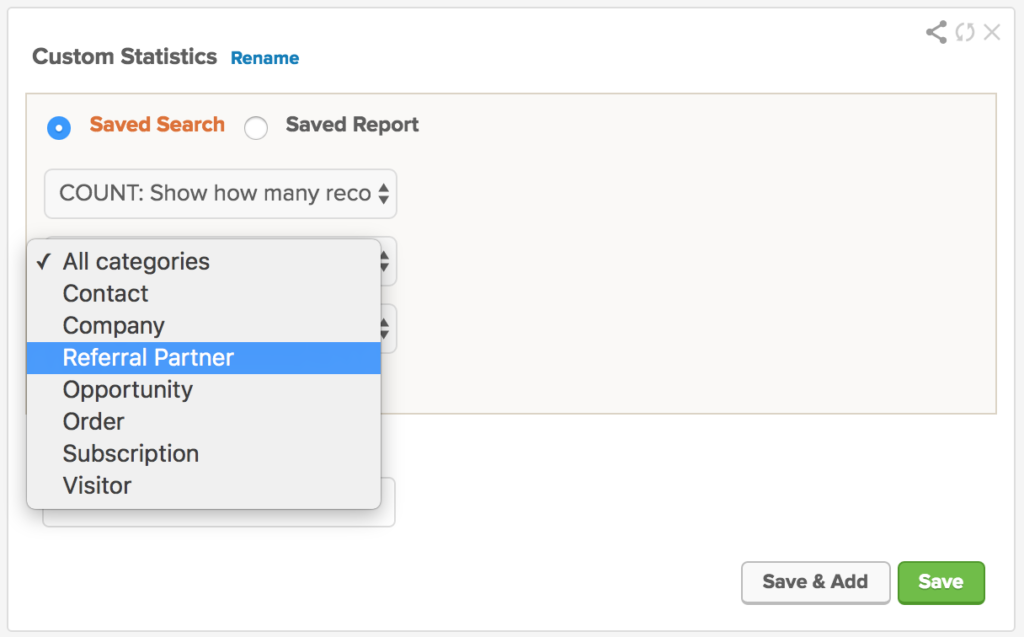 Select the actual Saved Search or Saved Report by the name you created.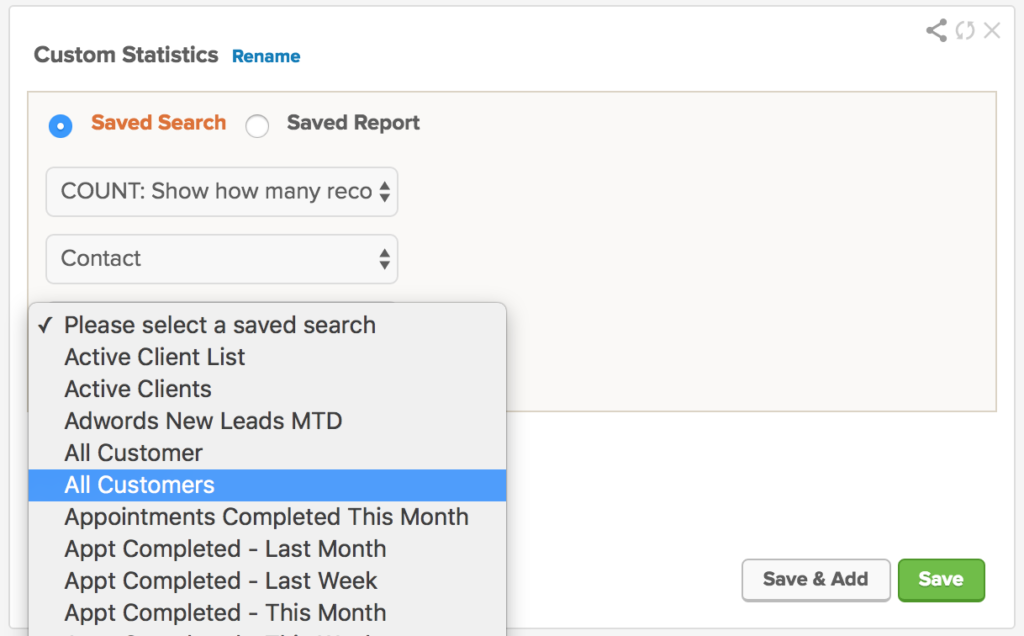 The "Stat Title" will be filled in with the name of the Saved Search or Report. Edit if you'd like.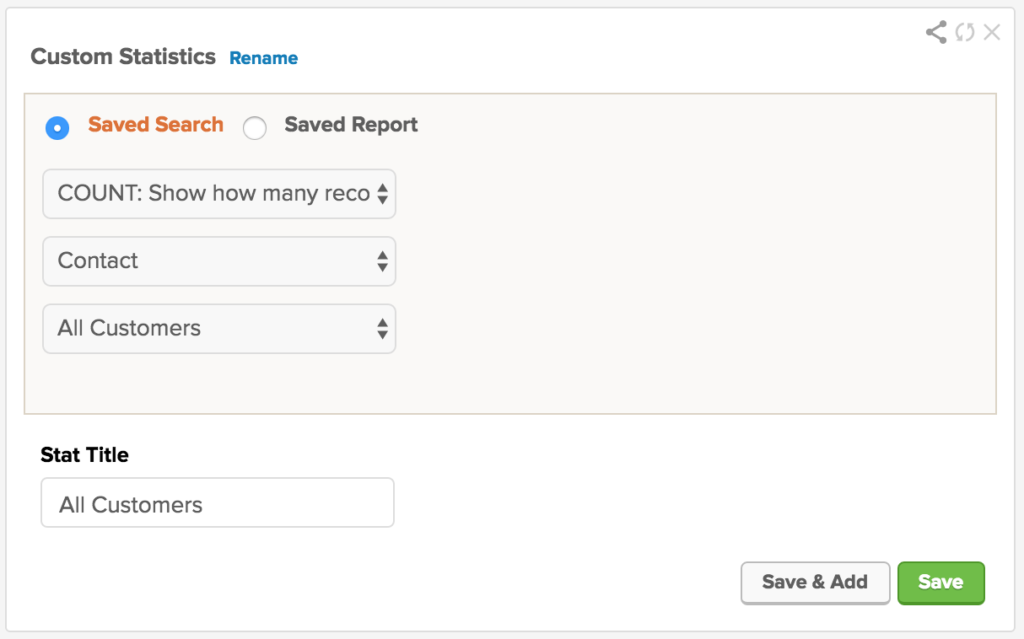 Either click "Save And Add" to add more stats or click "Save" to go back to the dashboard.

Click the "Rename" link to edit the name of this Custom Statistics box. You can add more boxes. So, create a box for each group of stats.