OPERATION: INFUSIONSOFT FREEDOM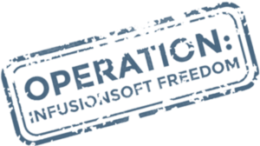 OPERATION: INFUSIONSOFT FREEDOM
will bring new light, focus, and results.

Enter your email address  now to be notified  when
OPERATION: INFUSIONSOFT FREEDOM launches
Never before have Infusionsoft users had such unprecedented access
to the real results that Infusionsoft can provide.
Leave the shackles behind, a new era is upon us.
If you've ever dreamt of the possibilities Infusionsoft can bring to
your business, but have felt like those dreams are far away,
Operation: Infusionsoft Freedom will bring true liberation
and reality to those dreams. REGISTER NOW if you're ready to
let Infusionsoft change your life.