WOW!  The last two months have been AMAZING.  Longest vacation ever.  I'll find time to post about all that we've experienced and done sometime soon.
But now it's time to get back to work.
I received a VERY interesting letter from Sport Chalet a few weeks ago (just opened it since it was sent to our US address while we were in Australia).
Sport Chalet has a customer loyalty program called Action Pass.  When you buy stuff (like surf gear, skateboards, baseball equipment, etc) you build up points.  Those points can be redeemed for gift certificates.
But this letter was not a standard offer or even an "account summary".  It was a letter that was triggered because I DID NOT OPEN the email they sent me with the same info.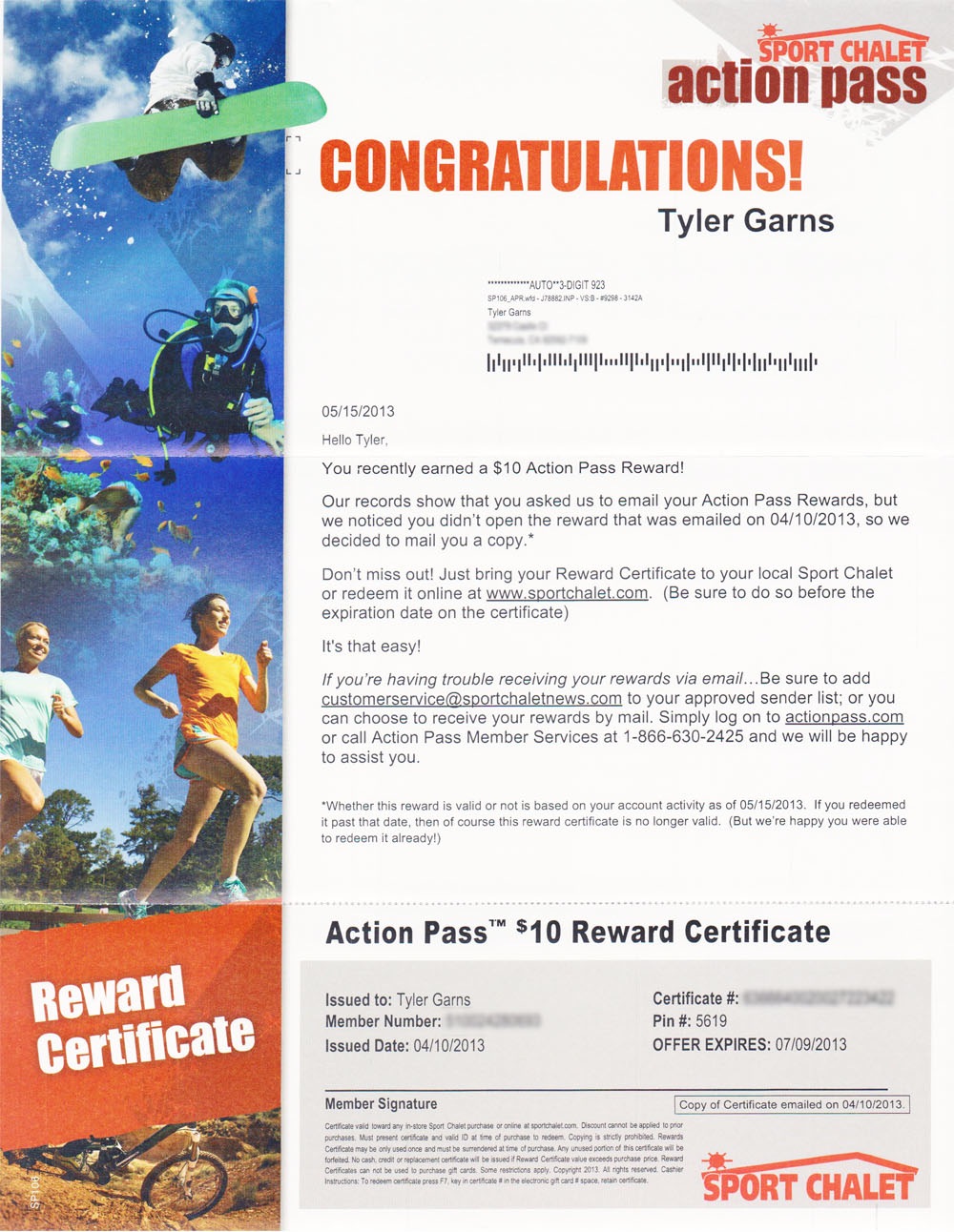 The letter starts off with:
[su_note note_color="#eee"]Our records show that you asked us to email your Action Pass Rewards, but we noticed you didn't open the reward that was mailed on 04/10/2013, so we decided to mail you a copy.[/su_note]
This is a GREAT example of using automated triggers to be sure your intended audience gets the message you're sending (and let them know you care).
(BTW, there was a glaring mistake at the beginning of the letter.  Did you catch it?  Check the P.S. for the answer.)
So, here's a list of things you can do automatically when someone doesn't open your emails:
[su_list icon="icon: check" icon_color="#456793″]
Trigger the email to be sent again.  Change it slightly to interrupt their normal habit of clicking "delete".
Trigger a direct mail piece to be sent (a la Sport Chalet).
Trigger a text message letting them know they missed an important email.
Trigger an automated voice mail letting them know they missed an important email.
Trigger a task for someone in your office to call them (use this one at very important times).
Trigger a notification inside your members area (CustomerHub, iMember360, etc).
Trigger a private tweet.
[/su_list]
There are a million other things you could do.  Share your ideas in the comments below.
The key is to not let it pass when someone doesn't open your emails.  If you really believe in what you're doing, the info in your emails is likely to be super helpful to your list.  Make sure they get it.  Do it in a helpful manner, not in a salesy manner.  I know I'm more loyal to Sport Chalet just because they sent this letter.
Get on it now.  And share your thoughts on more things that can be done below.
P.S.  The mistake that Sport Chalet made in the letter was a classic.  They started with "Our records show".  This is very impersonal.  This letter should have come from the Director of the Action Pass program (signed by him or her) and it should have started with "I noticed you ….".  Making your communications personal (especially your automated communications) is key to developing a relationship with your list.  This is one of the things we'll be covering in detail in the Freedom Formula Coaching Program.
P.P.S. Here's a pic of my oldest son Spencer getting ready to huddle into his shelter to spend a night alone in the wilderness for his Wilderness Survival merit badge.  He barely even flinched when I taught what to do "just in case" a rattlesnake tried to snuggle with him or if a camp bear came snooping around.  🙂  Connect with me on Instagram to follow the Garns family antics.  😉