Which Infusionsoft Campaigns Are You Missing? 
Don't let your customers fall through the cracks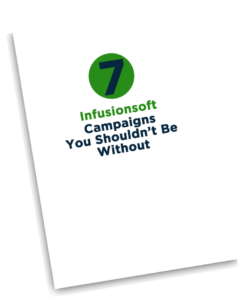 What does our FREE Guide Reveal?
We've put together the most comprehensive guide detailing the 7 campaigns every small business should have if you use Infusionsoft/Keap. Whether it's lead capture, conversion and sales,  or nurture/indoctrination campaigns, your business should have them all. Which campaigns are you missing?
We've put together an easy-to-digest list of proven Infusionsoft campaigns that you could use to check your business against.

Find out how to cycle your contacts through a complete lifecycle to maximize your bottom line and ensure proper follow up and fulfillment for your customers.

Download this guide, and start to automate each part of your business today.
Enter your name and email below to access the 7 Campaigns Report now:
This guide will teach you:
About Box Out Marketing
A Premier Infusionsoft Agency
Box Out Marketing is a leading Infusionsoft agency focused on helping you drive measurable results, not just campaign implementation. Led by Tyler Garns, former VP of Marketing at Infusionsoft (he even managed Infusionsoft's own Infusionsoft account!), Box Out Marketing combines experienced marketing expertise and detailed technical abilities to help you create the profitable marketing & conversion funnels needed to grow your business the right way.  Our experienced account managers will help you identify opportunities in your business month after month.  Hit the green chat button in the bottom right of your screen to find out how we can help you.

Infusionsoft Highest Customer Retention 2016

Infusionsoft Partner Of The Year 2017 (Domestic)
0
+
Combined Years Of Experience