37-Point Opportunity Audit!
In thirty minutes, discover the opportunities lying dormant in your business!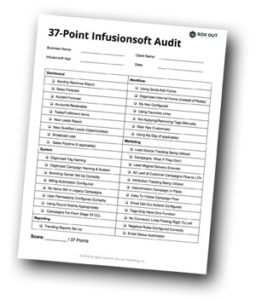 You can feel it!
Major success is always just around the corner.
But, it seems to evade you more often than not.
Most likely there are opportunities abounding in your business.  But sometimes, when you're too close, the opportunities are hard to see.
Our Account Managers are experts at identifying the dormant opportunities in your business and helping you capitalize on those opportunities using Infusinosoft.
Infusionsoft is an amazingly powerful tool.
But if you're not using it right, or there are things you could be using that you aren't, or even if it could just use a little maintenance, it could be causing you some trouble.
Register now with the form on the right to claim your free 37-Point Opportunity Audit.
[deadlinefunnel type='inline']
Get your 37-Point Infusionsoft Audit before time runs out!
Fill out the form below to get started now: